Custom WordPress web design services can be expensive, but there are always ways to cut corners. By understanding your needs and sticking to a budget, you can find a web designer that meets your needs without breaking the bank. To help you get started.
In this article, we'll examine the best WordPress web design services that will fit your budget.
Before discussing the best WordPress web design services, let's look at what WordPress is and why it is the best choice for your website.
What Is WordPress?
WordPress is a content management system (CMS) that enables you to create a website or blog from scratch or to improve an existing site. It's estimated that WordPress powers one-third of all websites on the internet, and it's no wonder why—it's easy to use, highly customizable, and free.
However, acquiring the right professional service to develop your website for you is not free and can be very expensive
WordPress was originally created to manage blogs but has developed to include many more features like Elementor to become a full-fledged website development platform, which makes it easier to build websites than ever before.
WordPress has themes that allow you to customize the look of your site, and it also has plugins that allow you to add features such as email marketing, social media integration, eCommerce, and more.
Why WordPress For Your Website?
Now that you know what WordPress is and what it is used for. But why should you use it for your website?
In this section, we'll look at why you should use WordPress for your website.
Secured
Security is one of the most important factors that you need to consider when setting up your website. You want to make sure that your data and the data of your website users are secured.
WordPress includes numerous security features to protect your website and data. Password protection, for example, allows you to safeguard the contents of a folder.
Additionally, you can create users with various access levels on your website and restrict access to particular folders or files.
It is Free
WordPress is open-source software that is free to use. It is therefore accessible to everyone. The software does not require any licensing fees. You can either install it from your hosting account's cPanel or download and install it for free.
However, certain features require a plugin installation, most of which are free, but others may require a small fee.
You'll also need web hosting to use WordPress. You can get a hosting plan for as low as $1.99 per month from a web hosting provider to get your WordPress website online.
Great Community Support
As was already mentioned, WordPress is widely used because it is free and open-source software. Finding assistance and answers to your questions is made simple as a result.
You can find countless YouTube video tutorials that will teach you how to use the software, and there are also a ton of forums where you can ask questions. Because WordPress is so widely used, web hosting companies even offer support for it.
Easy To Install And Use
To install WordPress, you don't need to be tech-savvy. It only requires a few clicks to install. Installing it from the cPanel of your hosting account is even simpler.
WordPress has already been installed on some hosting plans. Even for new users, it is very simple to use. Once it is installed, you can easily add content to your website.
Hire a Web Designer For Your Custom WordPress Web Design
You now firmly believe that WordPress is the best CMS for your website and are eager to build one. WordPress web designers can help with this.
You might be wondering why you should pay someone to do it for you now that we've shown how easy WordPress is to use.
1. It Saves Time
The job of a WordPress web designer is to create WordPress websites. This has allowed them to gain a lot of experience in quickly building WordPress websites.
So, hiring WordPress web designers is a good idea if you want to get your website up and running quickly.
2. Quality Content
Yes, you can build your own website as a beginner, but the quality of the content you put on it may be low because you don't know what you're doing.
This is where a WordPress web designer comes in handy; they build you a quality content website in order to be ranked higher in the industry.
3. Adaptability
The online world is constantly changing, and as a newbie, you may be unaware of current WordPress design trends. The WordPress designer is aware of these changes and will design your website to appeal to internet users.
Where To Find Custom WordPress Web Design Services?
Now you are ready to make use of custom WordPress web design services. Where can you find a great web designer?
Find custom WordPress web design services on Fiverr. On Fiverr, you can find a pool of WordPress web designers who can create any type of website for an affordable price.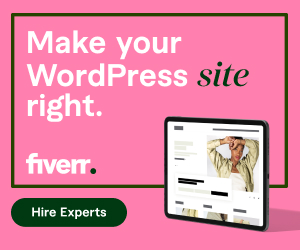 The following are the reasons why you should hire a WordPress web designer on Fiverr:
Firstly, hiring a WordPress web designer saves you money because it is affordable; designers charge reasonable prices due to the platform's stiff competition for custom WordPress web design services.
Secondly, you can obtain high-quality content. Fiverr has experienced WordPress designers with a strong portfolio; they also strive to produce high-quality content in order to gain more positive reviews and attract more clients. Before hiring a designer, read their reviews and check their portfolio.
Thirdly, hiring on Fiverr for your WordPress website also saves you time because the process is quick and simple. Working with one person is also faster than working with an agency where bureaucracy gets in the way of the work.
Finally, Fiverr offers an escrow service as a payment option for buyers. This allows you to pay the designer only when you are completely satisfied with the design. In this way, you can be sure your money will be safe until you receive the work.
How Much Do Custom WordPress Web Design Services Cost?
The cost of custom WordPress web design services may vary depending on the complexity of the design. A custom WordPress web design for eCommerce is more expensive than a simple one like a personal blog.
A design agency will charge you about $1000 to $10,000 for a basic website. This does not include any additional costs like web hosting or domain registration.
Our main objective is to assist you in finding the best custom WordPress web design services at a competitive price. Let's examine the other alternative: freelance custom WordPress web design services.
Hiring a freelance WordPress designer is the most affordable option. Hiring a freelance WordPress designer on Fiverr, one of the world's largest freelance marketplaces can cost as little as $30 for a simple project and can go as high as $1,500 for a complex one.
Fiverr Pro Service is a collection of verified Fiverr freelancers whose prices range from $150 to $5,000 depending on the complexity of your design.
Web Hosting For WordPress Website
A web host is an essential part of any WordPress website. You need web hosting to get your WordPress online. Choosing the right host can make all the difference in the success of your website.
As previously stated, WordPress is the most popular CMS platform on the web, so web hosting providers have made provisions for it by creating WordPress-specific web hosting packages. WordPress web hosting.
Important: While any web host can host a WordPress website, the WordPress website is specifically designed to meet the requirements and security of the WordPress software.
WordPress web hosting comes with features such as pre-installed WordPress and plugins, as well as automatic WordPress and plugin updates, that other web hosting packages do not provide.
There are several web hosting companies that offer WordPress web hosting packages. The most popular web hosting companies, and also affordable ones, are:
For your next custom WordPress site, we recommend any of these hosting providers.
Final Thoughts On The Best Custom WordPress Web Design Services
Custom WordPress web design services are an excellent way to spruce up your website. By understanding your needs and sticking to a budget, you can find a designer that meets your needs without breaking the bank.
In addition to price, you should also take into account the quality of the designer and the services they offer.
Why should you hire a freelance WordPress web designer on Fiverr?
It is the most cost-effective method of having your website designed.
Hiring a freelance WordPress web designer on Fiverr will save you a significant amount of time.
Freelancers work hard to provide you with high-quality designs in order to earn high ratings.
Finally, the design of your website will be consistent.
Get More From Us
Affordable Business Website Design: Fiverr's best affordable website design service and why it's the best option for your startup website.
How Much Does Web Hosting Cost?: Our comprehensive research on how much it costs to get your website online. The latest research