The battle between Elementor Pro vs Free one of the best WordPress page builders rages on, and as a savvy webmaster, you find yourself at a crossroads. Should you take the plunge and upgrade to the mighty Elementor Pro, or stick with the tried-and-true Free version?
The decision may seem daunting, but fear not, as we're here to guide you through this thrilling web design dilemma.
As a web enthusiast who has ventured into the realms of both the Elementor Free and Pro versions, I speak from experience when I say that Elementor Pro is an absolute game-changer.
If you're wondering why it's a must-have product, you're in the right place.
Delve into this comprehensive guide as we dissect the key differences and benefits of Elementor Pro vs Free, ensuring you make an informed decision tailored to your unique needs.
Summary: Elementor Pro vs Free
Here is the quick summary
Elementor Free Version
Elementor Pro Version
Features
1. Drag and drop editing
2. Basic pre-design templates
3. 50+ widgets
4. Basic styling
5. Import and export of templates
6. Maintenance mode
7. Responsive Editing
8. Revision history
9. Undo/Redo
10. Copy, and Paste
Everything in the free version plus:
1. Theme Builder
2. WooCommerce builder
3. Form Builder
4. Professional templates
5. 100+ widgets
6. Global Widget and Settings
7. Custom CSS
8. Popup Builder
9. Dynamic Content
10. Advanced styling options
11. Embed Anywhere
Pricing
Free
$49/year for 1 website
$99/year for 3 websites
$199/year for 25 websites
$399/year for 1,000 websites
Understanding Elementor Free
When it comes to grasping the ins and outs of the Elementor free version, it's vital to delve into its features.
By exploring the capabilities of this version, you can make an informed decision about its suitability for your web design endeavors.
Exploring the Features of the Elementor Free Version
Elementor Free comes packed with a range of features that enable users to create visually stunning websites without extensive coding knowledge.
Let's take a closer look at the key aspects that define Elementor Free:
1. Drag-and-Drop Functionality
With Elementor free version's intuitive drag-and-drop interface, designing your website becomes a breeze. Seamlessly move and position elements, such as buttons, Google maps, images, text editors, videos, icons, and more, exactly where you want them.
This user-friendly functionality empowers you to create captivating layouts without grappling with complex coding processes.
2. Pre-designed Templates
Elementor's free version boasts an impressive collection of pre-designed templates. These ready-made layouts provide a convenient starting point for your website.
Simply choose a template that aligns with your vision and customize it to suit your brand's style and identity.
Effortlessly transform the template into a unique masterpiece that captures your audience's attention.
3. Over 50 Widgets
Elementor Free offers a vast array of widgets to elevate the functionality of your website.
With over 50 widgets at your disposal, including buttons, Google Map, images, text editors, videos, icons, box icons, and many more, you have the flexibility to create dynamic and interactive web pages.
These widgets enhance user engagement, making your website a captivating online destination.
4. Responsive Editing
Ensuring your website looks flawless across different devices is paramount. Elementor Free offers responsive editing, allowing you to optimize your design for various screen sizes.
Seamlessly adjust and fine-tune elements to ensure a seamless and visually appealing experience for your visitors, whether they're browsing on a desktop, tablet, or mobile device.
5. Import and Export Templates
Elementor Free simplifies the process of sharing and utilizing templates. Seamlessly import pre-designed templates or export your creations for future use or collaboration.
This feature streamlines your workflow, saving you time and effort when building and managing multiple websites.
6. Maintenance Mode
When you need to perform updates or make changes to your website, Elementor Free's maintenance mode comes to the rescue.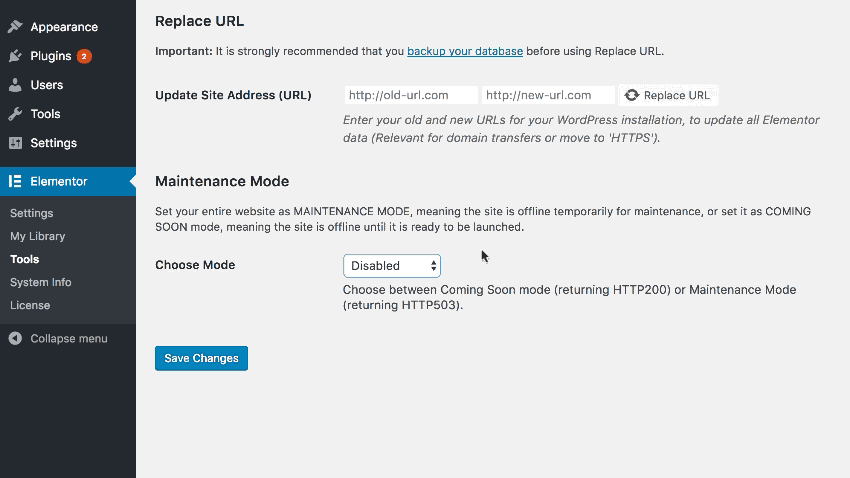 Activate maintenance mode to display a user-friendly maintenance page, keeping visitors informed while you work behind the scenes.
It's an invaluable tool for seamless website maintenance without disrupting the user experience.
7. Basic Styling Options
Elementor's free version offers a range of basic styling options to elevate the visual appeal of your website. Customize elements with background overlays, hover animations, text shadows, box shadows, entrance animations, and more.
While the styling options are not as extensive as those in Elementor Pro, they provide ample flexibility to add a touch of creativity to your designs.
Highlighting the Benefits of Elementor Free Version
The Elementor Free version is excellent for beginners venturing into web design and small-scale projects for free.
Its also user-friendly interface and robust set of features make it accessible and intuitive for those new to website creation.
Your WordPress site deserves a better host
Unveiling the Power of Elementor Pro
When it comes to taking your web design game to the next level, Elementor Pro is the secret ingredient that unleashes a whole new level of creativity and functionality.
In this section, we'll dive into the enhanced features of Elementor Pro, showcasing the power it brings to your web design arsenal.
Elementor Pro and its Enhanced Features
Elementor Pro builds upon the foundation of Elementor free, offering a comprehensive suite of advanced features that elevate your website design capabilities.
Let's explore the key enhancements that make Elementor Pro a game-changer:
1. Theme Builder
One of the standout features of Elementor Pro is Theme Builder, which empowers you to design and customize every aspect of your theme.
From creating custom headers and footers to crafting dynamic archive pages, the Theme Builder provides unparalleled control over your website's visual elements.
2. Popup Builder
Engage your visitors and capture their attention with Elementor Pro's Popup Builder. This feature enables you to create eye-catching popups that can be triggered by various user actions, such as clicking a button or scrolling to a specific section.
Harness the power of popups to boost conversions, promote special offers, or grow your email list.
3. WooCommerce Builder
For e-commerce websites, Elementor Pro's WooCommerce Builder is a game-changer. With this feature, you can design and customize every aspect of your online store, from product pages to shopping carts and checkout processes.
Create visually stunning and conversion-focused product layouts that elevate the shopping experience for your customers.
4. Form Builder
Elementor Pro's Form Builder eliminates the hassle of creating and managing forms on your website.
With its intuitive interface and a wide range of form field options, you can easily design custom forms to collect user data, inquiries, or feedback.
Seamlessly integrate with popular email marketing services and CRM platforms to streamline your lead generation process.
5. Pro Templates
Elementor Pro offers an extensive library of professionally designed templates, exclusively available to Pro users.
These pre-designed templates cover a wide range of industries and purposes, providing you with a head start in creating stunning web pages.
Customize these templates to match your brand identity and save valuable time in the design process.
6. Custom CSS
With Elementor Pro, you have the freedom to fine-tune your website's appearance by adding custom CSS code.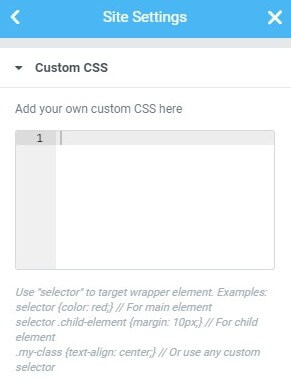 This advanced feature allows you to implement unique design elements or override default styles, giving your website a personalized touch and unlimited design possibilities.
7. 100+ Widgets for Enhanced Functionality
Elementor Pro comes bundled with a vast collection of over 100 widgets, extending your creative options and enhancing the functionality of your website.
From dynamic post elements, form, portfolio, countdown, flip box, and more, these widgets enable you to create interactive and engaging web experiences for your visitors.
8. Global Widget and Settings
Maintaining consistency across your website becomes effortless with Elementor Pro's Global Widget and Settings feature.
By creating the global widget, you can make updates in one place, and the changes will reflect across your entire website.
This feature ensures a cohesive and streamlined design throughout your web pages.
9. Advanced Styling Options
Elementor Pro provides advanced styling options that give you fine-grained control over your website's appearance.
Take advantage of scrolling effects, blog pagination styles, custom fonts, and more to add a touch of uniqueness and visual appeal to your designs.
10. Dynamic Content
With Dynamic Content, you can seamlessly integrate and display content from your WordPress CMS (Content Management System) across various Elementor widgets, offering unparalleled flexibility and efficiency.
Elementor Pro Pricing
When considering whether to upgrade to Elementor Pro, it's essential to understand the pricing options and the value they offer.
Elementor Pro provides different plans to cater to various needs and budgets.
Let's explore the Elementor Pro pricing plans and find the one that suits your requirements.
1. Essential Plan: Unlock the Power of Elementor Pro for a Single Website
The Essential Plan is an excellent starting point for individuals or businesses looking to enhance a single website with the features and functionality of Elementor Pro.
Priced at $49 per year, this plan offers affordability and flexibility without compromising on the powerful tools that Elementor Pro has to offer.
2. Advanced Plan: Expand Your Horizons Across Three Websites
For those managing multiple websites or seeking to scale their online presence, the Advanced Plan is a smart choice.
Priced at $99 per year, it allows you to utilize Elementor Pro on up to three websites.
With this plan, you can unlock the potential of Elementor Pro across a broader range of projects, maximizing your investment and unleashing your creativity.
3. Expert Plan: Empower Your Web Design Endeavors Across 25 Websites
If you're a web design agency or a professional managing a portfolio of websites, the Expert Plan is designed to meet your needs.
For $199 per year, you can harness the power of Elementor Pro on up to 25 websites, ensuring consistency, efficiency, and a seamless web design experience for all your clients.
This plan offers exceptional value and allows you to deliver outstanding results across a diverse range of projects.
4. Agency Plan: Scale Your Business with Elementor Pro on 1,000 Websites
For agencies and enterprises seeking to maximize their reach and manage a substantial number of websites, the Agency Plan is the ultimate solution.
Priced at $399 per year, this plan grants you access to Elementor Pro on up to 1,000 websites, providing unparalleled scalability and efficiency.
With the Agency Plan, you can streamline your workflow, deliver top-notch web design services, and drive your business growth.
The Benefits of Upgrading to Elementor Pro
Upgrading to Elementor Pro unlocks a plethora of benefits that can revolutionize your web design journey.
Let's explore the advantages of upgrading to Elementor Pro and discover how it can elevate your website creation process.
1. Enhanced Productivity and Efficiency
Elementor Pro introduces a range of features and tools that significantly enhance your productivity and streamline your design workflow.
From the intuitive drag-and-drop interface to time-saving features like copy-paste styling and global widgets, Elementor Pro empowers you to build websites faster and more efficiently. Say goodbye to repetitive tasks and welcome a more streamlined design process.
2. Access to Premium Support and Updates
By upgrading to Elementor Pro, you gain access to premium support from the Elementor team. Whether you have technical questions, need guidance, or encounter any issues, the dedicated support team is there to assist you.
Additionally, you receive regular updates that introduce new features, improvements, and bug fixes, ensuring your website remains optimized and up to date.
3. Leveraging the Full Potential of Advanced Features
Elementor Pro unlocks a treasure trove of advanced features that take your web design capabilities to new heights. With features like the Theme Builder, Popup Builder, WooCommerce Builder, and Form Builder, you can create customized, dynamic, and interactive elements that captivate your audience.
These advanced features empower you to create professional-grade websites that stand out from the crowd.
4. Expanding Design Possibilities for Complex Websites and Projects
As your web design needs evolve and you tackle more complex websites or projects, Elementor Pro becomes an indispensable tool.
With its vast library of Pro templates, extensive widget collection, advanced styling options, and Dynamic Content capabilities, Elementor Pro offers unparalleled design possibilities. From creating intricate layouts to incorporating dynamic content from your WordPress CMS,
Elementor Pro equips you with the tools to bring your creative vision to life.
Elementor Pro vs Free: Unlocking the Web Design Potential with Elementor Pro
In our comparison between Elementor Pro and the free version, we've explored the features. Elementor Free offers a solid foundation with drag-and-drop functionality, pre-designed templates, and basic styling options, making it suitable for beginners and small-scale projects.
However, upgrading to Elementor Pro unlocks a world of possibilities. With advanced features like Theme Builder, Popup Builder, WooCommerce Builder, and Form Builder, you can customize your website to new heights.
Access to premium support, updates, and an extensive library of Pro templates amplifies your design capabilities.
To unlock your web design potential, consider upgrading to Elementor Pro. It offers enhanced productivity, advanced features, and limitless design possibilities. The choice between Elementor Pro and the free version depends on your goals and aspirations as a web designer.
Upgrade to Elementor Pro, embrace the power of choice, and take your web design journey to new heights.
Build Your fully functional Professional Website without writing a single line of code with Elementor Pro
Experience the freedom to create, the power to innovate, and the satisfaction of bringing your creative vision to life. Unlock your web design potential with Elementor Pro today.
Frequently Asked Questions (FAQ)