Welcome back to the Build Your Business Small Website series. In the previous tutorial, we covered the basics of purchasing web hosting, getting a free domain, and installing WordPress, the most popular CMS on the market.
Now that you have your website up and running, it's time to explore the WordPress Admin Dashboard, your go-to control center for managing your website.
In this guide, we'll walk you through everything you need to know about the WordPress admin dashboard.
By the end of this guide, you'll have a solid understanding of the WordPress Admin Dashboard and feel confident in managing your website's day-to-day operations.
So, let's dive into the world of WordPress and explore the powerful features of the WordPress admin dashboard together!
Accessing the WordPress admin dashboard
If you've already set up your WordPress website, accessing the admin dashboard is the next step.
In the previous tutorial, we showed you how to access the dashboard directly from your hosting account. However, you don't always have to log into your hosting account to access your dashboard.
To access your admin dashboard, all you need is the login URL. The URL should be in the format "yourwebsite.com/wp-admin". Simply enter this URL into your web browser and hit enter.
This will take you to the WordPress login page, where you'll be prompted to enter your username and password.
These are the same credentials you used to install WordPress on your hosting account. Once you log in, you'll be taken directly to the WordPress admin dashboard.
It's important to note that you should always keep your login credentials secure.
Welcome to the WordPress Dashboard
Congratulations! You've successfully logged in to the WordPress dashboard!
This is the control center for your website, where you can manage all aspects of your site.
The basic WordPress dashboard interface includes a left navigation bar that may look slightly different depending on your hosting provider.
Some hosting providers may include pre-installed plugins or customizations, which will appear in the left navigation menu.
Now that you're on the dashboard, let's take a closer look at each item in the WordPress dashboard.
By exploring each option, you'll gain a better understanding of the functionality and capabilities of your website.
The WordPress top navigation menu
In addition to the left navigation menu, WordPress also has a top navigation menu that provides quick access to important features and settings.
The top navigation menu appears at the top of the screen and contains several useful options. Starting from the left, you'll see
The WordPress icon: Hovering over it will display several options, including

About WordPress, which provides an overview of the WordPress version you're using.
WordPress.org, which takes you to the official WordPress website.
Documentation, which provides guides on using WordPress.
Support, which takes you to the official WordPress forum for support, and
Feedback, which directs you to the official WordPress request and feedback forum.

The "Home icon with your website name" is located next to the WordPress icon. Clicking on this icon will take you to your website's homepage. When you are on the homepage, clicking on this icon will bring you back to the WordPress dashboard. Hovering over this icon will reveal the "Visit Site" menu, which allows you to quickly navigate to your website's homepage with a single click.
Comment icon. This icon shows the number of comments that your website has received, and clicking on it gives you quick access to the comments section, where you can approve, reply, or delete comments.
The plus icon with new is a quick access button that allows you to add new posts, media files, pages, or users.
At the far right corner of the top navigation bar is your profile, represented by your profile picture and username. Here, you can update your profile information or log out of your profile.
Depending on the plugins and tools you have installed on your WordPress, your top navigation bar may contain more options, but these are the basic options that come with WordPress.
The WordPress left navigation menu
The left navigation menu is the primary navigation for all the WordPress dashboard items. It contains all the essential sections that you need to create, customize, and manage your website.
The left navigation menu items may vary depending on the theme and plugins installed on your WordPress site. Here are the most common items on the WordPress left navigation menu:
1. Dashboard
This is the main page of the WordPress dashboard and provides a summary of your website's activity and statistics.
The dashboard is comprised of various elements, including:
Welcome: This box provides a link to learn more about the WordPress version you are using, as well as quick links to add new pages and customize your website with features such as logos, fonts, menus, and headers. You can also access information about block themes in this section.
Site health: This section gives you quick information about your website's performance, including any issues that may need attention.
Quick Draft: This section allows you to quickly draft a post idea without having to navigate away from the dashboard.
At a Glance: This section provides a quick snapshot of your site statistics, such as the number of posts, pages, and comments, as well as the current version of WordPress and the theme you are using.
WordPress news and events: This section provides you with the latest news and upcoming events related to WordPress.
Activity: This section shows you the recent activities on your website, such as newly published posts and comments.
Under the dashboard is the menu item "Updates," which gives you a quick overview of all the themes and plugins that need to be updated.
2. Posts
This menu item is where you can create and manage your blog posts. Here you can add new posts, edit existing ones, and manage categories and tags.
3. Media
This is where you can manage all your website's media files, such as images, videos, and audio files. You can upload new files or edit or delete existing ones from the media library.
4. Pages
This is where you can create and manage all the pages on your website. Pages are usually used to create static content that doesn't change very often, such as an "About Us" page or a "Contact Us" page.
In the pages section, you can view all your existing pages, add new pages, and edit or delete existing ones.
5. Comments
The Comments menu item is where you can manage and moderate comments that have been left on your posts. You can approve, delete, or mark comments as spam in this section.
It also shows you the total number of comments on your website and which ones are pending moderation.
6. Appearance
This menu item allows you to control the look and feel of your website. It has sub-menu items such as:
Themes: This allows you to choose your website themes. Technically, every WordPress website needs a theme.
Customize: This provides quick customization options for your website's header, background, font, logo, color, site name, menu, widgets, and many more.
Widgets: This gives you the ability to add or remove widgets from your website's sidebar and footer areas.
Menus: This allows you to create and manage your website's navigation menu.
Theme file editor: This provides you access to the code of your website, including your theme's files.
7. Plugins
The Plugins menu in the WordPress dashboard allows you to manage all the plugins installed on your website. You can add new plugins, activate, deactivate, and delete plugins from this menu.
Additionally, you can also edit the plugin file from the "Plugin File Editor."
Plugins are essential tools that add extra functionality to your WordPress website.
With plugins, you can add features such as social media sharing, contact forms, e-commerce functionality, and much more.
8. Users
This section allows you to manage user accounts on your WordPress site, including adding new users, editing existing users, and deleting users.
You can also control user roles and permissions, such as making someone an administrator or author or restricting access to certain parts of your site.
Additionally, you can manage your own user profile here, including your display name, email address, and password.
9. Tools
The Tools menu item is where you can access additional tools to help manage your WordPress site. Some of the tools available include:
Available Tools: This is where you can add or remove tools that can be used on your site.
Import: This allows you to import content from other blogging platforms or export your WordPress site content.
Export: This allows you to export your WordPress site content.
Site Health: This provides detailed information about the health of your website and any issues that need to be resolved.
10. Settings
This menu item allows you to configure your website settings, including general settings, writing settings, reading settings, discussion settings, media settings, permalinks, privacy, and more.
You can also customize your website title and tagline, set up your time zone, and manage your email address and site language.
11. Collapse Menu
This menu item allows you to collapse the left navigational menu into icon menus instead of text.
This is particularly useful if you have a lot of menu items and need more space on your screen.
How to install a WordPress theme
Technically, every WordPress website needs a theme. Installing a WordPress theme is a crucial step in setting up your WordPress website. A theme defines the layout and design of your site, giving it a unique appearance.
Let's explore how you can easily install a WordPress theme directly from your WordPress dashboard.
To begin, follow these steps:
1. In your WordPress dashboard, navigate to the "Appearance" menu on the left-hand side and select "Themes".
2. On the Themes page, you will find the "Add New" button at the top. Click on it to proceed.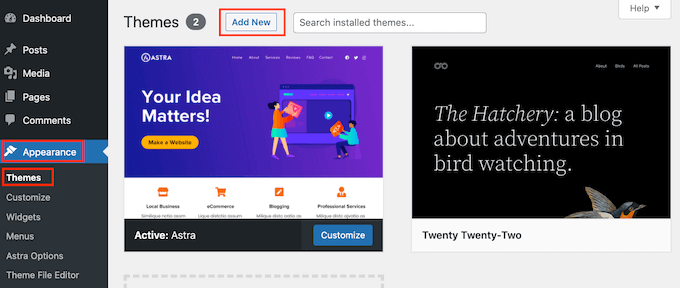 Here, you'll have access to a wide range of featured themes, as well as the ability to search for specific themes using keywords or filters.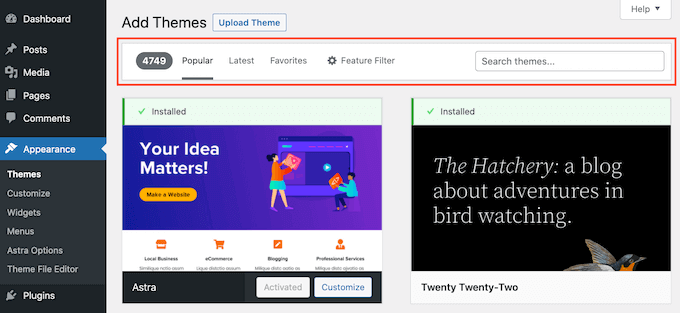 Browse through the available themes or use the search bar to find a theme that suits your needs. Some of the popular themes are Astra, Blocksy, and GeneratePress, which can be a great choices.
3. Once you have identified a theme you like, hover over it and click on the "Install" button. WordPress will automatically download and install the theme for you.
4. After the installation is complete, you will see an "Activate" button. Click on it to activate the theme and make it live on your website.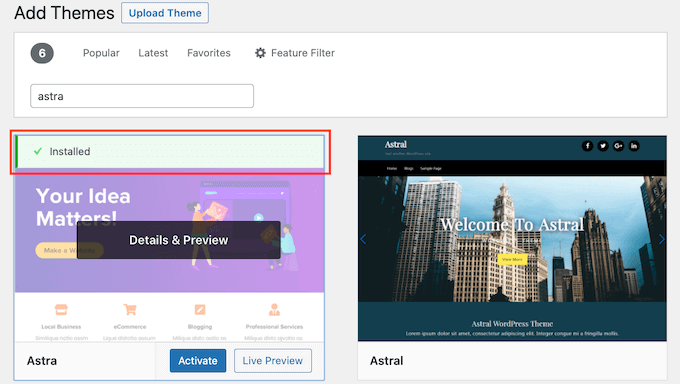 Once activated, you can further customize the theme settings and options according to your preferences. This allows you to personalize your site's appearance and make it align with your brand or vision.
If you have a theme that you downloaded from a third-party source, you can also upload it to your WordPress dashboard.
Simply click on the "Upload Theme" button on the "Add Themes" page, select the theme file from your computer, and click "Install Now". Once installed, click on "Activate" to make it live.
Installing a WordPress theme is a straightforward process that allows you to enhance the visual appeal and functionality of your website.
Take your time exploring different themes to find the perfect match for your site, and don't forget to customize the theme to create a unique and engaging online presence.
Before we go, let's make one important setting on the WordPress site.
How to change the permalink
A permalink, short for "permanent link", is a unique URL assigned to a specific piece of content on your website.
It is a web address that remains constant and doesn't change over time, even if the content is updated or moved to a different location within your site.
Changing your permalink to an SEO-friendly URL is important because it can help improve your website's search engine visibility and rankings.
Search engines, such as Google, use the URL structure to understand the content on your website, and a clear and descriptive URL can make it easier for them to index and rank your pages.
To change your website permalink:
In the left-hand menu from the dashboard, click on "Settings" and then "Permalinks".
You will see a list of common settings for your permalinks. By default, "Day and name" is selected.
Choose the "Post name" option, as it is considered to be more SEO-friendly and also clearly indicates the content of your page.
Once you have made your selection, click on "Save Changes".
That's it! Your permalink structure has been updated.
Remember, when changing the permalink structure of your site, make sure to test all your internal links to ensure they are still working properly.
Additionally, it is not recommended to change your permalink structure once your site has already been live for a while, as this can negatively impact your SEO and result in broken links.
Conclusion: Exploring the WordPress Admin Dashboard
In this guide, we covered the basics of exploring the WordPress admin dashboard. We started with the login process and how to access the dashboard.
We then took a look at the different elements of the WordPress dashboard, including the top and left navigation menus.
We covered the different menu items under the left navigation menu, including Dashboard, Posts, Media, Pages, Comments, Appearance, Plugins, Users, Tools, and Settings. We explained what each menu item does.
We also discussed how to change the permalink of your WordPress website to make it more SEO-friendly. We explained what a permalink is, why it's important to have an SEO-friendly permalink, and how to change it.
Exploring the WordPress admin dashboard can be overwhelming at first, but with this guide, we hope we've provided you with a clear understanding of the different elements and how to use them.
As you become more familiar with the WordPress dashboard, you'll find that it's a powerful tool that can help you manage your website more efficiently and effectively.
Follow the series