Welcome back to our blog series on monetizing Elementor! In our previous post, we explored one lucrative avenue: becoming an Elementor web designer. Today, we'll take a closer look at how you can make that dream a reality.
Gone are the days when web design required extensive coding knowledge. With Elementor, the possibilities are endless, and you can create stunning, professional websites worth thousands of dollars, all without having to write a single line of code.
If you're eager to embark on this exciting journey and unleash your creativity, you've come to the right place.
In this blog post, we'll provide a step-by-step guide to becoming an Elementor web designer. So, let's dive right in and discover how you can turn your passion for design into a profitable career!
Introduction to Elementor and its features
So, what exactly is Elementor? Simply put, it is a popular drag-and-drop website builder plugin for WordPress. It empowers web designers and developers to create visually captivating and interactive websites without the need for coding knowledge.
One of the standout features of Elementor is its intuitive and user-friendly interface. With its drag-and-drop functionality, you can effortlessly design and customize every aspect of your website.
Another key feature is the extensive library of pre-designed templates and blocks that Elementor offers. These professionally crafted templates serve as a starting point for your designs, saving you time and effort.
Elementor also provides a wide range of widgets, such as buttons, images, videos, forms, and more. These widgets can be seamlessly integrated into your designs, allowing you to add interactive elements and enhance user engagement.
One of the significant advantages of Elementor is its responsiveness. With a built-in responsive editing feature, you can ensure your designs look great on all devices, from desktops to smartphones and tablets.
Elementor's versatility extends beyond design. It also offers advanced features like theme building, dynamic content, and WooCommerce integration.
These features enable you to create custom themes, dynamically display content based on user interactions, and even set up and manage e-commerce stores efficiently.
Exploring The Demand For Elementor Web Designers
Before embarking on your journey to become an Elementor web designer, it's crucial to assess the market demand for your skills. Let's delve into the thriving demand for Elementor web designers and discover the opportunities that await you.
First and foremost, Elementor boasts an impressive user base, with over 5 million active installations. This makes it the most popular WordPress website builder in the industry.
As businesses and individuals continue to adopt Elementor for their websites, the need for skilled designers to enhance and customize these websites becomes paramount. By acquiring proficiency in Elementor, you position yourself as a valuable asset in fulfilling this demand.
To gain a deeper understanding of the market, we can explore popular freelance platforms like Upwork. A quick search reveals more than 900 active job postings seeking Elementor web designers for a wide range of projects. From website creation and redesign to customizing templates and optimizing user experience, the demand for Elementor expertise is evident.
Additionally, platforms like Fiverr provide further insight into the demand for Elementor designers. With over 3,000 listings specifically dedicated to Elementor services, it's evident that businesses and individuals actively seek professional assistance in leveraging the power of Elementor for their web design needs. Some designers on Fiverr have even completed over 1,000 projects, indicating the ongoing demand for their services.
For those aspiring to work within established companies rather than freelancing, popular job boards like Indeed.com offer a wealth of job opportunities. A search on Indeed.com yields numerous vacancies that specifically require Elementor skills. From small businesses to large corporations, employers recognize the value of Elementor web designers and are actively seeking individuals with the necessary expertise.
In summary, the demand for Elementor web designers is thriving and shows no signs of slowing down. With millions of active installations, a vast number of job postings on freelance platforms, and a wide array of vacancies on job boards, it's evident that Elementor's skills are highly sought after.
By honing your proficiency in Elementor, you open doors to lucrative opportunities, whether through freelancing or joining established companies.
So, if you're considering learning Elementor to become a web designer, rest assured that the market demand is robust and ready to embrace your skills.
With determination and dedication, you can tap into this growing demand, secure rewarding projects, and pave the way for a successful career in Elementor web design.
Step By Step Guide on How to master and Become Elementor Web Designer
Mastering the art of Elementor web design requires a systematic approach and dedication.
Follow this step-by-step guide to enhance your skills and become a proficient Elementor web designer.
1. Master the fundamentals of the Elementor website builder
To become an accomplished Elementor web designer, it's crucial to start by mastering the fundamentals of this powerful page builder.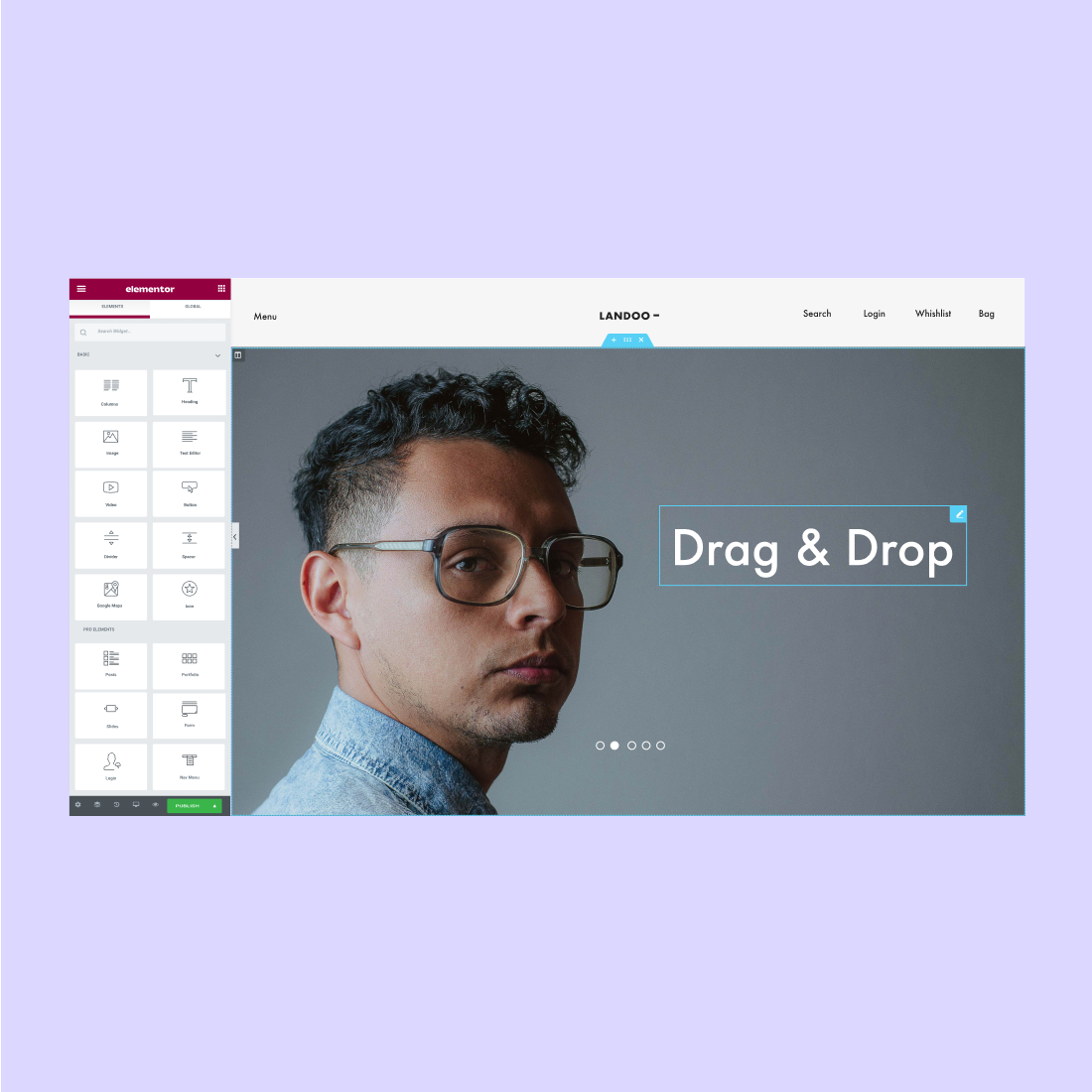 Here are essential steps to get you started:
Familiarize yourself with the Elementor interface: Take the time to explore the various tools, panels, and features available within the Elementor interface. This includes the drag-and-drop editor, the Elementor toolbox, and the options for customization. This article goes deeper into the Elementor interface.
Learn how to create and customize sections, columns, and widgets: Understanding how to structure and arrange elements is key to designing visually appealing websites. Experiment with creating different section layouts, adjusting column widths, and adding widgets to enhance the overall design.
Explore the features and widgets in Elementor: While the free version of Elementor provides a solid foundation, consider upgrading to a paid version, at least the Elementor single site plan, to unlock additional features and widgets. This will enable you to leverage more advanced design elements and functionalities in your projects.
Stay updated with Elementor's latest updates and releases: Elementor frequently introduces new features, enhancements, and widget additions. Keep yourself informed about these updates by subscribing to Elementor's official blog, following their social media channels, and actively participating in the Elementor community.
By mastering the fundamentals of Elementor, you will gain a strong foundation to build upon as you progress in your web design journey.
Remember to practice regularly, experiment with different design techniques, and continually expand your knowledge of Elementor's capabilities.
2. Create a development environment for testing
To truly excel as an Elementor web designer, it's essential to create a development environment that allows you to test and refine your skills.
Follow these steps to set up a suitable environment:
Set up a local development environment using tools like Local by Flywheel or XAMPP. These tools provide a controlled environment on your computer where you can install and configure WordPress and Elementor without affecting live websites. This allows you to experiment freely and learn without the risk of breaking anything.
Install WordPress and the Elementor plugin on your local server for testing and experimentation. WordPress serves as the content management system (CMS), while Elementor acts as the powerful design tool. This combination enables you to create and customize websites seamlessly.
Practice building websites and refining your skills within this controlled environment. Start by recreating existing websites or designing new ones from scratch using Elementor. Experiment with different layouts, widget combinations, and design techniques. This hands-on experience will help you become familiar with Elementor's capabilities and gain confidence in using it.
Utilize remote development environments like Pantheon Site.io or WP Engine. These platforms offer cloud-based environments where you can develop and test websites remotely. This allows you to collaborate with others, access websites from anywhere, and leverage advanced features specific to these platforms. Remote environments are particularly useful when working with clients or teams spread across different locations.
By creating a development environment, whether local or remote, you create a safe space to practice and refine your Elementor skills.
This hands-on experience is crucial for gaining proficiency and exploring the full potential of the page builder.
Remember to regularly update your local or remote development environment and stay up to date with the latest versions of WordPress and Elementor to ensure compatibility and access to new features and improvements.
3. Become an active member of the Elementor community
To enhance your growth as an Elementor web designer, it's vital to become an active member of the vibrant Elementor community.
By joining forums, Facebook groups, and other online communities dedicated to Elementor, you can engage with like-minded individuals, expand your knowledge, and stay updated on the latest trends and techniques.
Here's how to make the most of your participation:
Join Elementor Community Forums: Sign up for Elementor's official community forums, where designers, developers, and enthusiasts gather to discuss all things Elementor.
Engage in Facebook Groups: Search for and join Elementor-related Facebook groups that cater to web designers and developers.
Participate in Online Communities: Explore other online communities, such as web design forums and platforms like Reddit or Stack Overflow, where Elementor is a topic of discussion.
Ask Questions and Seek Guidance: Don't hesitate to ask questions when you encounter challenges or seek guidance on specific design techniques.
By actively participating in the Elementor community, you can tap into a wealth of collective knowledge, gain inspiration from fellow designers, and forge valuable connections.
4. Build a portfolio
To establish yourself as a reputable Elementor web designer, it's essential to build a compelling portfolio that showcases your skills and demonstrates your proficiency with the platform.
Follow these steps to create an impressive portfolio:
Start by creating a personal website: Develop a personal website that serves as a central hub for showcasing your portfolio. This website will be a representation of your design style and expertise. Utilize Elementor to create a visually stunning and user-friendly website that effectively highlights your skills.
Develop a portfolio of diverse websites: Create a portfolio of diverse websites that you have built using Elementor. Include a variety of projects that showcase your ability to create websites for different industries, purposes, and target audiences.
Highlight your expertise: In your portfolio pieces, emphasize your expertise with Elementor. Showcase how you have effectively utilized Elementor's features, tools, and functionalities to create visually appealing and functional websites.
Include client testimonials and project details: For each portfolio piece, consider including client testimonials that validate your skills and professionalism. Additionally, provide project details that describe the objectives, challenges, and outcomes of each project. This helps potential clients understand your design process and the results you've achieved.
5. How to find work as an Elementor web designer
It is time to market and find a job for your acquired skills.
As an Elementor Freelancer:
To succeed as an Elementor freelancer and attract clients, follow these key strategies:
Create profiles on freelance platforms: Establish a strong online presence by creating profiles on popular freelance platforms such as Upwork, Fiverr, or Freelancer.
Craft compelling service descriptions: Write compelling service descriptions that highlight your expertise in Elementor web design. Clearly communicate the benefits clients can expect from your services, such as customizable designs, responsive layouts, and fast turnaround times.
Set competitive pricing: Research the market rates for Elementor web design services and set competitive pricing for your freelance services. Consider your skill level, experience, and the complexity of projects when determining your rates. Offering competitive pricing packages can help attract clients and set you apart from the competition.
Deliver high-quality work: Focus on delivering high-quality work to your clients. Pay attention to detail, ensure designs are visually appealing and functional, and strive to exceed client expectations. Promptly address feedback and make necessary revisions to ensure client satisfaction.
Maintain good communication: Maintain excellent communication with your clients throughout the project. Respond promptly to messages, provide regular progress updates, and clarify project requirements to avoid misunderstandings. Positive client communication fosters trust and helps build long-term relationships.
Gather positive reviews: Encourage clients to leave positive reviews on your freelance platform profiles. Positive reviews act as testimonials of your skills and professionalism, attracting more clients and boosting your credibility as an Elementor freelancer.
As an employee:
If you prefer working as an Elementor web designer within a company or organization, consider the following strategies:
Apply for Elementor-specific job opportunities: Regularly check job boards such as Indeed, Glassdoor, or LinkedIn for Elementor-specific job opportunities. Use relevant keywords such as "Elementor web designer" or "WordPress designer with Elementor experience" when searching for positions.
Tailor your resume and cover letter: Tailor your resume and cover letter to highlight your Elementor skills and relevant experience. Emphasize your expertise in using Elementor, specific projects you have completed, and any related certifications or training you have received.
Prepare a portfolio: Create a portfolio that showcases your best Elementor designs and projects. Include screenshots, links, or live demos of websites you have built using Elementor. This visual representation of your work helps employers assess your design capabilities and understand your style.
Ace interviews: During interviews, demonstrate your proficiency in Elementor by discussing specific projects you have worked on and how you utilized Elementor's features and functionalities. Showcase your ability to work collaboratively in a team environment, communicate effectively, and meet project deadlines.
By implementing these strategies, you can effectively market your skills as an Elementor web designer, whether as a freelancer or a worker seeking employment.
Elevate Your Design Career with Elementor: Unleash Your Potential as a Web Designer
With its intuitive interface, powerful features, and thriving community, Elementor offers limitless possibilities for creating stunning websites without the need for coding expertise.
Whether you choose to freelance or work as part of a team, mastering Elementor opens doors to exciting opportunities in the ever-evolving field of web design.
Elevate your design career and embark on a journey of creativity and success with Elementor.
Frequently Asked Questions