A good website design can make or break a website. It can be the difference between a website that looks professional and trustworthy and one that looks amateurish and uninviting.
So, where do you find a good web designer to give you a unique web design? And once you find one, what are the best tips you need to know before hiring them?

This blog post will answer those questions and more. Keep reading to learn everything you need to know about finding and hiring a web designer!
Let's get right to it.
Where to Find Web Designer
Finding a web designer is not as challenging as it may seem; you have the option of going with a freelancer or a web design agency.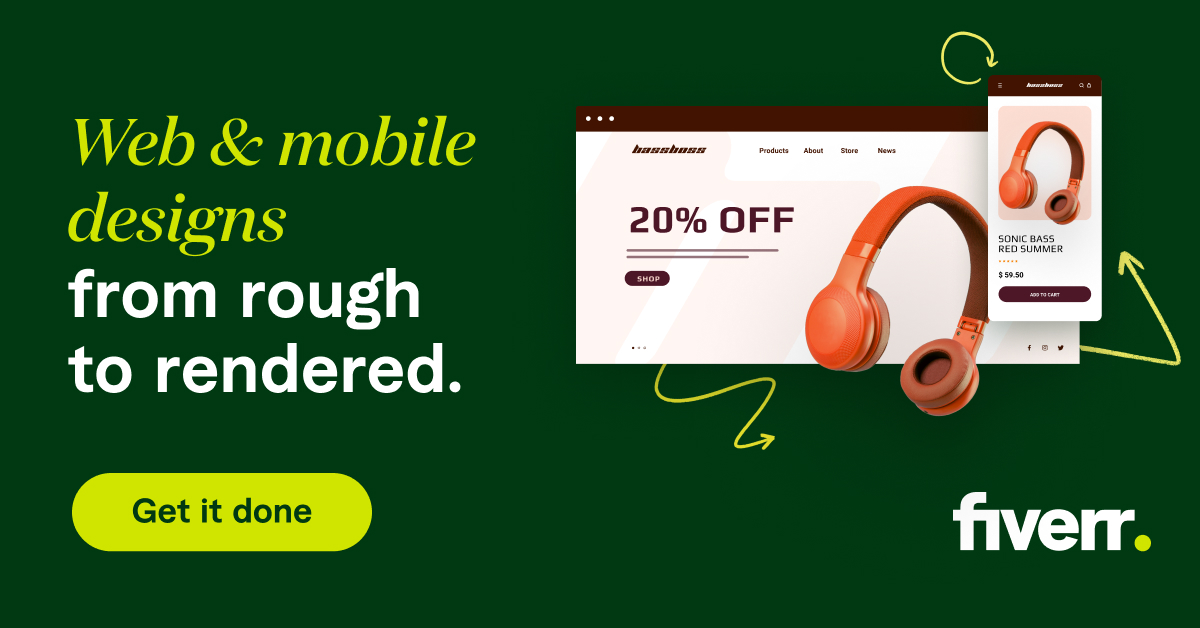 The Freelance Web Designer
A freelance web designer is an independent web designer who is paid for each project that he/she completes. Hiring a freelance web designer is usually the cheapest option and ideal for small businesses and startups.
Working with a freelance web designer ensures consistency in your website's design because they are the only ones with access to the entire design process.
You can find freelance web designers on your own, but it is not the most efficient method. Hiring a freelance web designer through a freelance marketplace is the most efficient option.
These websites serve as a conduit between clients and freelancers. They offer a payment option known as "escrow", which enables you to release funds to the freelancer once you are happy with the work they have completed.
Where Can You Find a Freelancer Web Designer?
The best place to find freelance web designers is on freelance marketplace websites; these marketplaces provide you with a large pool of freelance web designers to choose from.
Freelance websites protect your money by escrowing payments until you are satisfied with the work.
So what are the best freelance marketplace websites out there?
Fiverr is one of the best freelance marketplace websites; they have a wide range of web design services, and you can get web designers who are specialized in all the website building tools. WordPress, Wix, Squarespace, Shopify, Zyro, Duba, etc.
You can get a good freelance web designer for as little as $10.
Another great freelance marketplace website is Upwork; they have a large pool of freelancers, all with different skills and experience. On Upwork, you post your project and get bids from freelancers who are available and willing to work on it.
These are two of the biggest freelance websites out there. However, there are also other freelance websites out there that you can use. These include:
The Web Design Agency
This option is ideal for medium-sized businesses. The web design agency employs a variety of staff members who collaborate to complete the client's project, making their service more expensive than that of a freelance web designer.
In contrast to freelancers, web design agencies typically offer additional services like search engine optimization (SEO), search engine marketing (SEM), and other digital marketing services. As a result, you may have access to all of your digital marketing needs in one place.
The web design company is made up of a group of experts with the in-depth knowledge needed to advance your website.
Where Can You Find a Web Design Agency?
A simple Google search can yield several web design agencies for you to choose from.
You can also use review sites to find web design agencies.
Another great way to find a web design agency is through referrals. Ask trusted people in your industry to recommend web design agencies they have worked with.
As a startup or small business, your best option is to choose a freelance web designer, which is the most affordable and will also provide you with a decent website to kickstart your online journey.
Visit Fiverr to find a wide selection of web designers at a low cost.
Why Should You Hire a Web Designer?
We'll get to the tips you need for your ideal web designer shortly, but first, let's look at why hiring a web designer is preferable to doing it yourself.
1. Save You Time
It will take time and effort to learn how to create a website on your own. You'll need a lot of hours to learn how to code, and if you're learning WordPress, it will take some time to get used to the interface.
Building your website yourself will cost you valuable time that could be used to generate revenue for your company. A professional web designer can build your website quickly, allowing you to focus on managing your business.
2. Gives You Quality Design
The design and content of your website may be compromised because you might not have the experience to build a quality website, which could have a negative effect on website traffic.
The web designer is qualified to create a high-quality, visually appealing website for you that will increase traffic to your website.
3. Drive Results to Your Website in a Short Time
Web designers build websites with optimization in mind. The optimization improves your website's search engine results.
When you build your own website, you must figure out everything yourself, which may cause your website to take longer to achieve the results you want.
In addition, various elements on your website work together to improve the user experience and drive results; as an inexperienced web designer, you may be unable to bring these elements together. This is something that a professional web designer will be able to do.
4. Stand Out of the Competition
Your website should be tailored to your brand. You need to stand out from your competition.
If you build your own website, you may end up using templates that have been used by other websites. This will take out the uniqueness of your website.
A professional web designer will create a unique website for you from the ground up. This will be tailored to your brand and will be one-of-a-kind.
5. Adaptability
The online space is constantly evolving, as is the website design. The website design in 2017 is not the same as the design in 2022. Sticky navbars were not always present on websites, but they are now.
As an inexperienced web designer and someone unfamiliar with the field, you wouldn't be aware of current trends and design your website accordingly.
The web designer will customize your website to meet the current trend.
The Tips You Need Before Hiring a Web Designer
We now know why it is important to hire a professional web designer for your website, but before you hire a web designer, there are a few things you need to consider before making the decision.
These tips will help you make the best decision for your website and will ensure that your website is unique and memorable.
Set Out Your Goal
First, clearly outline what you want your website to accomplish. Decide what type of website you want: an e-commerce website, a blog, or a portfolio website.
You should also decide on the number of pages you want your website to have and the content you want to display.
Once you have determined your goal, you will be able to hire a web designer with the right skill set to design your website.
Set Your Budget
How much are you willing to spend on your website's design? This is an important consideration when looking for a web designer.
Every web design has its own pricing structure. A website with a high level of customization will cost more than one with a low level of customization.
Therefore, search around to get an idea of the cost of web design for your specific website.
Once you have your budget, you can go ahead and hire a web designer who is willing to work with you within your budget.
Read Reviews
Reviews should be taken into account when choosing a web designer. These are client endorsements for a web designer. From this, you can see what a web designer is competent at.
Other customers' experiences will be a direct reflection of what you will also go through.
A web designer who has received numerous positive reviews gives you a strong indication that the web designer is good.
Check Out their Portfolio
The web designer's work is displayed in their portfolio.
The portfolio gives you an idea of the web designer's style and skills. This will enable you to decide whether you like the style and want to work with them.
The example of a website they have designed will give you a clear idea of how your website will look.
Explore their designed websites that are similar to your potential website to get a clear idea of what you can expect.
Check Out the Price
One of the most important factors to consider is price.
Every business wants to cut costs, so you must find a web designer who is within your budget.
This can be done by exploring the various prices set by web designers.
The Fiverr marketplace allows you to easily compare the rates of freelance web designers.
Ask for References
Ask your potential web designer to provide you with references.
Reference will be able to provide you with their experience with the web designer.
The Timeframe of the Project
Typically, web designers on Fiverr indicate the duration of each project in their gigs.
However, go the extra mile to confirm whether the project can be completed at the scheduled time.
Ready to Find Your Web Designer?
Your website is your company's face online.
Your website can make your online presence fruitful or disastrous. You can have a fruitful web presence if you have a good website design, which you can achieve with a good web designer.
Luckily, finding a good web designer isn't hard and also not expensive thanks to freelance websites.
Fiverr gives you access to a large pool of amazing freelance web designers at an affordable price.
Get More From Us
Affordable Business Website Design: Fiverr's best affordable website design service and why it's the best option for your startup website.
The Best Custom WordPress Web Design Services: The best WordPress web design services that will fit your budget.